Natalina's Kitchen has been featured in both local and national online and print media.
Check out our media coverage below.
Canadian Living X L'Oréal #PerfectAge Campaign
Selected as 1 of 4 inspirational women for Canadian Living's #PerfectAge joint content project with L'Oréal Canada, including video interview and a two-page magazine spread in the October 2016 issue.
Roam New Roads Film Series
Selected for Roam New Roads, a two-part short film series filmed on location at La Cucina di Natalina. A joint marketing venture produced by Canon Canada and Blue Ant Media, Roam New Roads is a new content-driven online platform featuring the aspirational lives and passions of the 45+ generation through exclusive video content.
The Globe & Mail
June 1, 2017
Interview
"Authentic Italian food is simple and the simpler a dish is, the better-quality the ingredi­ents must be because there is nothing to hide them in."
Interviewed on Italian ingredients as part of the Mangia Italiano: Celebrate Italy's Certified Food & Wine sponsored content project
Perspective
March 2017
Feature
Featured as part of special Guelph-focused insert on business and economic development in select copies of The Globe & Mail
Wellington County
September 2016
Featured Destination
Featured in Wellington County "Letters from the Country" economic development and tourism brochure, distributed at regional events and in The Globe & Mail
CBC Kitchener-Waterloo
July 2016
How thousands of homemade meals for Hillside Festival volunteers get made
"Anyone who cooks professionally will tell you that there's something very satisfying about cooking for people."
Innovation Guelph
November 2015
Client Success Profile
"Client Success: La Cucina di Natalina Italian Cooking School profiled in new online film series"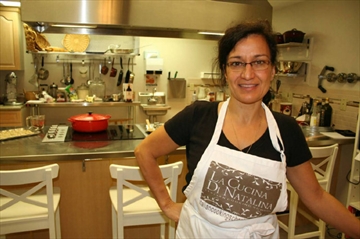 Guelph Mercury
November 2013
"La Cucina di Natalina a hands on cooking school"
Subscribe to our newsletter to hear about new class dates and upcoming tours!